CHRISTIAN AID 2023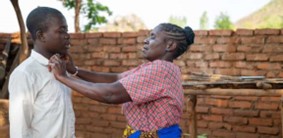 We had an excellent Coffee Morning on 28th May and were very fortunate to be well blessed with sunny weather and were able to sit outside and have our coffee and cake, while enjoying a chat with friends. We were delighted to raise the sum of £246.50 for Christian Aid and would like to thank everyone who supported us in any way. We also raised £245 with our on-line e-envelope bringing our final total to £491.50. Added to this there will be Gift Aid amounting to £67.50.
The story below is what we were raising our money for.
Jen's Story
Jen's hard-working boys have earned places at top colleges – but Jen cannot afford to send them both. 'My heart longs to see our children finish school,' says Jen. 'These dreams are very important to me, because by doing so, I'll be sure that I am creating a good future for the children.
A terrible dilemma
Her oldest two boys have gained tertiary education places, which is very rare for young people from her rural area. One has a place at a prestigious polytechnic and one at a well-known college – it's even on one of Malawi's banknotes.
Jen works hard to provide for her children. But she can barely scratch a living from the soil. Soaring costs of food, fuel, fertiliser, school uniforms and school fees are crushing dreams and keeping her family in poverty.
Now, Jen has had to make a choice. One no mum should be forced to make. Rising costs mean Jen can pay for only one of her sons' college courses.
Crops with amazing potential
Jen and her husband have two acres of pigeon peas, but they are struggling with the effects of the climate crisis. The rainfall is unreliable, and there are more storms, flooding and stronger winds.
The pigeon pea is a tough plant, able to withstand a lot – just like Jen. But to make the most of her crop, Jen needs to plant good quality seeds and sell for the best price possible, and not to unscrupulous middlemen.
No mum should have the heart-breaking choice of which child to educate and which one will miss out on their dreams. 
No hardworking young person should be forced to give up on education, locking them into poverty.
We dream of a better world. We want every child to be able to have the education they need to break free of poverty. We imagine a future where crops are not flattened by cyclones and washed away by floods.
Together, we can help people secure a better future for their families, giving them the chance to fulfil their potential.
Grandborough Parish has always given very generously to Christian Aid and we trust that you will still want to donate by using the e-envelope.  We will no longer be doing door-to-door collections in the Parish.  All donations are anonymous and Gift Aid can be added if you are a taxpayer.
Please think about giving a donation and sharing an e-envelope by clicking this link Donate by e-envelope.
With many thanks.
Dorothy Johnson
Christian Aid Co-ordinator for the Parish of Grandborough
<! --end of bodycontent div -->