Should you wish to come and visit our beautiful church, it is open every Friday, Saturday and Sunday from 9.00 am - 6.00 pm.
Events and services in July and August are as follows:
Thursday 4th July - Farmers' Market 10.00 am - 12.30 pm. Come and support our stallholders and have a chat and refreshments in the café.
Thursday 4th July - Messy Church 4.30 - 6.30 pm. Our crafts will commence at 4.30, followed by worship and a 2 course sit down meal with the family. Everyone is welcome. Please come and along and join us. All children must be accompanied by an adult.
Sunday 7th July - 9.00 am - Holy Communion.
Sunday 14th July - 6.00 pm Evensong
Sunday 21st July - 11.00 am - WtW (Welcome to Worship) a family service for all ages. This is a 30 minute service with refreshments served at the end.
During the month of August, we have a Benefice Communion service at 10.30 am, held at each of the churches, as follows:
Sunday 4th August - St Nicholas, Willoughby
Sunday 11th August - St Mark's, Flecknoe
Sunday 18th August - St Peter's, Grandborough
Sunday 25th August - All Saints, Leamington Hastings
Up to Date News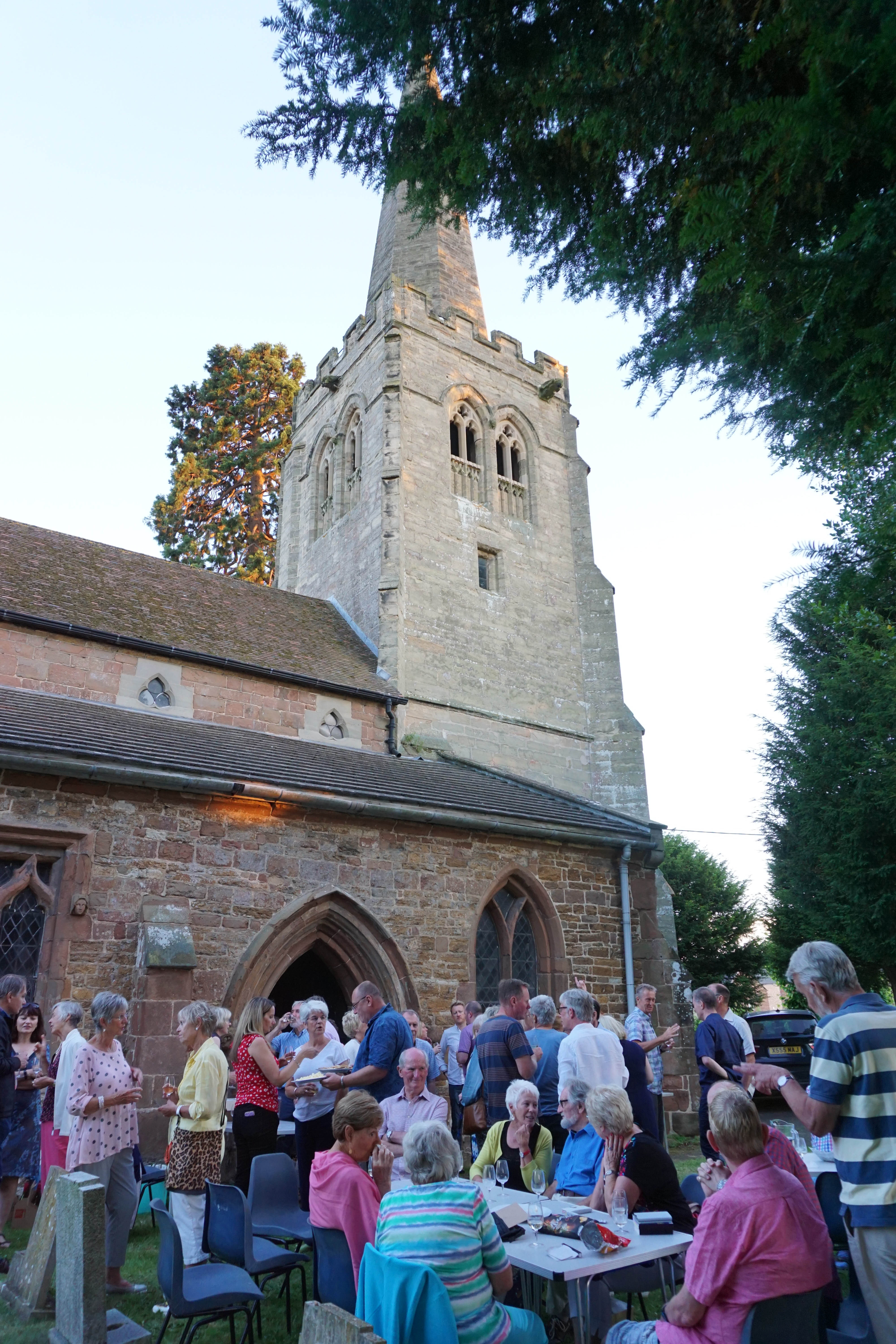 On Friday 5th July we held a GWAS (Grandborough Wine Appreciation Society) evening at the church. Over 50 people attended, the weather was perfect and we were able to enjoy our seven taster wines mingling with everyone outside in the churchyard. In the early part of the evening, 3 groups of people, (23 in total), took the opportunity of a tower tour and were amazed at the beautiful views from the top. The sum of £350 has been donated from this event to the church and will go towards the cost of a new carpet which will be fitted in September. A lovely evening enjoyed by everyone.
Churchyard tidy up and church cleaning
To end our very busy and successful week at the church we had a late 'Spring clean and churchyard tidy up. We very much appreciated the help from all the volunteers who turned up, 8 of whom worked in the churchyard cutting the hedge and tidying up some of the graves. Inside we had 6 ladies who gave the church a very good clean. Most of the carpet has now been lifted in readiness for our replacement at the beginning of September.
<! --end of bodycontent div -->